Book a Room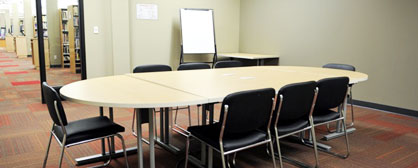 Rates for Meeting Room Rental (except Carol Shields Auditorium)
Room and equipment rental - minimum 3 consecutive hours: $58.00 + GST = $60.90
Room and equipment rental - 4 consecutive hours: $77.00 + GST = $80.85
Room and equipment rental - 5 consecutive hours: $95.00 + GST = $99.75
Room and equipment rental - 6 consecutive hours: $116.00 + GST = $121.80
Room and equipment rental - 7 - 12 consecutive hours: $128.00 + GST = $134.80
Not-for-Profit Bookings
Winnipeg Public Library allows limited, no-charge bookings for Not-for-Profit groups that meet criteria. Please read the FAQ on no-charge bookings for more information.
Criteria:
No-charge bookings are available at branch libraries only (not Millennium Library).
Groups must be Not-for-Profit.
The program or event being booked must be free to participants.
Limits:
No-charge bookings can be made up to 2 months prior to event date.
No-charge bookings are limited to 4 bookings per group, per calendar year, per library.
Meeting Rooms Available (call branch to book, unless otherwise noted)
Branch
Room Type
Photo
Capacity
Handicap Accessible
Audio Visual / Equipment
Misc.
Tables
Parking
Charleswood
204-986-3072
Meeting Room

10

Flipchart, LCD projector
coffee urn
1 table, 10 chairs
mall parking
Charleswood
204-986-3072
Program Room

60

Flipchart, LCD projector
coffee urn
8 tables, 60 chairs
mall parking
Cornish
204-986-4679
Closed for Renovations
Fort Garry
204-986-4918
Meeting Room

60

screen, flipchart, LCD projector
coffee urn
6 tables, 60 chairs
11 parking stalls and 1 handicap stall plus overflow (see map)
Harvey Smith (West End)
Harvey Smith Library, located within the Cindy Klassen Recreation Complex, does not have rooms available to rent. To rent space in the Cindy Klassen Recreation Complex call 311.
Henderson
204-986-4314
Meeting Room 1

80

LCD projector
9 tables, 78 chairs
mall parking lot
Henderson
204-986-4314
Meeting Room 2
(Heather Frances Graham Room)

36

LCD projector
executive table assembly, 12 chairs
mall parking lot
Henderson
204-986-4314
Tutorial Room
(no charge)

6

mall parking lot
Louis Riel
204-986-4573
Meeting Room

80

LCD projector, screen, TV, flipchart, microphone
sink area
12 tables
stalls & community club
Louis Riel
Tutorial Room
(no charge)

6

stalls & community club
Millennium
Rates
Call 204-986-6468
or email us
Carol Shields Auditorium
2nd floor

120

screen, LCD-HD projector, Blu-ray/ DVD/CD/VHS player, podium with microphone: call for more equipment options
sink area, fridge, microwave, coffee urn, kettle
round and rectangular tables available
underground parking
Rates
Call 204-986-6468
or email us
Buchwald Room 2nd floor

50

screen, LCD-HD projector, podium, flipchart:
call for more equipment options
sink area, fridge, microwave, coffee urn, coffeemaker, kettle
tables available
underground parking

Rates
Call 204-986-6468
or email us
Anhang Room
2nd floor

30

screen, LCD-HD projector, podium, flipchart: call for more equipment options
sink area, fridge, microwave, coffee urn, coffeemaker, kettle
tables available
underground parking
Rates
Call 204-986-6468
or email us
Dr. Anne Smigel Room
2nd floor

20

5 tables available
underground parking
Rates
Call 204-986-6468
or email us
Meeting Room 1
2nd floor

12

whiteboard, flipchart
table
underground parking
Rates
Call 204-986-6468
or email us
Meeting Room 2 (formerly Room 3)
4th floor

15

whiteboard, flipchart
table
underground parking
Call 204-986-6489
Tutorial Room A
2nd floor
(no charge)

6

whiteboard
table
underground parking
Call 204-986-6489
Tutorial Room B
2nd floor
(no charge)

6

whiteboard
table
underground parking
Rates
Call 204-986-6468
or email us
Computer Training Lab,
4th floor

15

PCs with Internet, MS Office Professional, whiteboard
underground parking
Munroe
204-986-3736
Program Room

50

screen, TV, flipchart, whiteboard, podium, LCD projector
coffee urn
5 tables
mall parking lot
Osborne
Osborne Library, located within the Fort Rouge Leisure Centre, does not have rooms available to rent. To rent space in the Fort Rouge Leisure Centre call 311.
Pembina Trail
204-986-4369
Meeting Room (Myrtle Lorimer)

50

screen, TV, flipchart, LCD projector
sink area, coffee urn
8 tables
39 parking stalls
River Heights
204-986-4934
Program Room

60

only main floor is accessible; Program Room not accessible
TV, flipchart, LCD projector
coffee urn
5 tables
street parking only
St. Boniface
204-986-4331
Salle de Conference

10

flipchart, dry erase board
1 table
7 stalls & street parking
St. Boniface
204-986-4331
Salle Marie Lynne Bernard

60

screen, flipchart, dry erase board, LCD projector, DVD/CD/VHS player, podium
sink area, coffee urn, kettle
8 tables
7 stalls & street parking
St. James-Assiniboia
204-986-3424
Program Room
2nd floor

40

TV, flipchart, LCD projector
coffee urn
6 tables
stalls & street parking
St. James-Assiniboia
204-986-3424
Meeting Room
2nd floor

12

TV, flipchart, LCD projector
coffee urn
stalls & street parking
St. John's
204-986-4689
Closed for Renovations
St. Vital
204-986-5628
Program Room

60

screen, flipchart, LCD projector
coffee urn
10 tables
limited parking stalls
St. Vital
204-986-5628
Meeting Room

12

flipchart, LCD projector
coffee urn
4 tables
limited parking stalls
Sir William Stephenson
204-986-7070
Meeting Room

96

screen, TV, flipchart, whiteboard, LCD projector
sink area & coffee urn
9 tables
parking stalls, no street parking
Sir William Stephenson
204-986-7070
Tutorial Room
(no charge)
TBA

8

parking stalls, no street parking
Transcona
204-986-3950
Meeting Room

8

screen, TV, flipchart, whiteboard, LCD projector
coffee urn
street parking
Transcona
204-986-3950
Program Room

90

screen, TV, 2 flipcharts, LCD projector
coffee urn
8 tables
street parking
West Kildonan
204-986-4384
Program Room

60

TV, flipchart, whiteboard, LCD projector
kitchen area, coffee urn
4 tables
limited stalls & street spaces
Westwood
204-986-4742
Program Room

35

TV, flipchart, LCD projector
kitchen area, coffee urn
3 tables
stalls & arena lot nearby
Windsor Park
204-986-4949
Program Room

40

LCD projector, screen, flipchart
coffee urn
6 tables,
40 chairs

28 parking stalls and lot behind Bonivital Pool
Windsor Park
204-986-4949
Tutorial Room
(no charge)

6

whiteboard


28 parking stalls and lot behind Bonivital Pool
Last update: September 24, 2018