Winnipeg Public Library Book Bike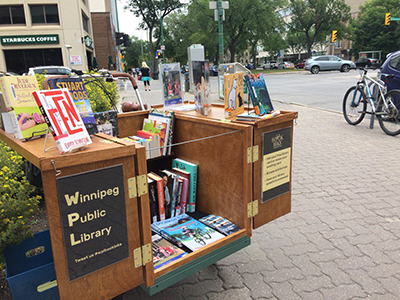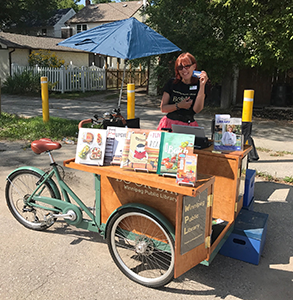 The Book Bike launched June 20, during Bike Week 2016. This one-of-a-kind cargo bike is outfitted to carry books and information about Winnipeg Public Library to the streets of Winnipeg.
At the Book Bike you can:
Get your free library card or renew your existing one
Browse from our book display and borrow
See demos of our online services including how to download eBooks and use our online learning resources
Get answers to any question about library services
Where to find the Bike
We will be "peddling books" around the downtown and surrounding areas in the summer and fall, weather permitting. Follow us on twitter @wpglibrary or search for the hashtag #wplbookbike to see where we will be next!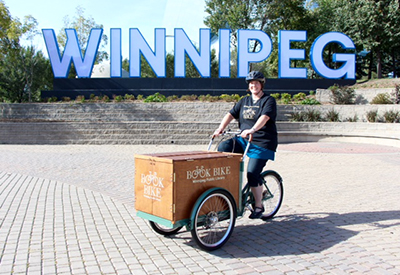 Why a Book Bike
We are always looking at ways to reach out to the community. We visit classrooms, literacy programs, and public spaces and festivals with pop-up libraries and presentations year-round. The Book Bike allows us to efficiently bring our library information and books to browse anywhere a bike can get to! The library has so much to offer from arts and culture events, technology and computer courses to borrowing books or using our online resources. We want to get out on the streets and tell people about their public library.
#wplbookbike Tweets
Last update: April 5, 2018