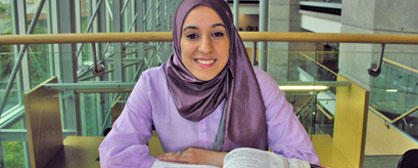 Newcomers/EAL
Welcome to Winnipeg Public Library!
At the Library, you and your family can:
Borrow books, magazines, movies, music, and more! Did you know that we have books in over 30 languages at the Millennium Library? And we have dual language (bilingual) children's books too.
Read or study. We have space for you to study, or just to relax with a newspaper. Bring your family and read together!
Come to a program. We have story time for children and families, concerts, computer workshops, and more. We have programs for children, teens, and adults. There are many choices and they are all free.
Use a computer. We have internet computers and some computers with word processing. Or, bring your laptop and use our wireless internet. It's free too!
Take an online course. We have courses that can help you with speaking English, writing in English, and other skills. Find a list of EAL courses on our Info Guides site.
Ask questions. Library staff will help you find the answers.
Please see our EAL Learners Info Guide and New to Canada Info Guide for library information in several languages, classroom activities, citizenship information, and more.
Last update: December 18, 2018